Skip to content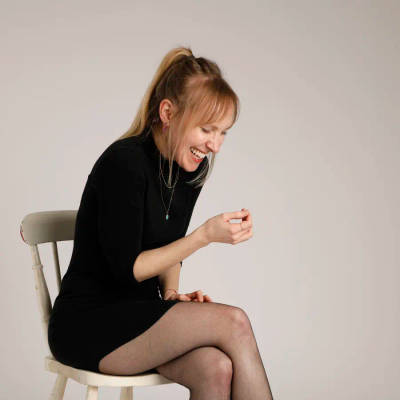 Hi, my name is Evie and I'm a professional hair and makeup artist, specialising in natural, beautiful and relaxed hair and makeup styles. I'm currently living in the particularly beautiful city of Bristol. I have lived in Bristol for the majority of my life, with the occasional stint in Los Angeles (my dream home).
I am a keen musician, and I love to play guitar and make beautiful covers of Eminem songs. As a side hobby, I have also been having French and Spanish lessons for the past 2 years. With a view to being multi-lingual in the near future (and it is always helpful with destination weddings). I have an unhealthy obsession with astrophysics and immunology (it goes without saying that they have nothing in common with one another) and love anything to do with the universe. Yes, I'm aware this potentially makes me the geekiest makeup artist on the planet.
I have been a professional makeup artist in Bristol and London for almost 10 years. I still get the same excitement from meeting a bride as I did when I first started out. Meeting every new bride is exciting to me. From hearing every single beautiful and unique story of the proposal, to the wedding planning and how they first met. I feel so lucky that over the past 10 years, brides and bridal parties have trusted me on their wedding day. I value each and every one of my brides and am some humbled when I am chosen to help brides and their bridal parties get ready for their wedding day.
Creating your bridal look is so important to me and as you can see from my portfolio every bride is individual and their styles unique. Having worked in commercials, I love bringing my skillset from fashion into my wedding portfolio to create bridal looks that are on-trend and unique to each person.
I have a strong love for travel (who doesn't?). I have been lucky enough to have destination weddings and commercials in Iceland, France, Ireland, Geneva, Scotland, California, Spain, Italy and Costa Rica. One of my favourite things is learning about different cultures and rituals. I am always happy to cater for destination weddings and would one day love to create beautiful hair and makeup styles for destination weddings in Greece, Austria and Kenya. I am lucky enough to have worked in some of the most beautiful venues in the UK from mountaintops in The Isle Of Skye, to stunning estates in Devon, Cornwall, Cheltenham and of course Bristol to name a few.
One of my favourite things about being a makeup artist is having the freedom to be creative. I adore researching new ideas and trends to create something unique that tells a story. Through my years working in the fashion industry, I have developed a kit that is personal to me. Full of my favourite products. I can also cater my hair and makeup kit to be vegan. I have been vegan for 2 years and my aim is to have a fully vegan kit in the very near future.
My fashion and commercial work has taken me all over the world working for brands such as John Lewis, Disney, Coca – Cola, Converse and Adidas to name a few.
I really love meeting each and every one of you, please check out my reviews on the review section or by having a little hunt for me on google.
I am known for my dedication, my effortless hair and makeup style and my vibrant personality. Please get in touch to discuss your wedding or project.
Evie x